E2M28
Brand new Edwards E2M28 high capacity vacuum pump with one year manufacturer warranty from Edwards. E2M28 replaces the discontinued E2M30, click links below for more details. Free KF25 flexible stainless steel bellow (3.3 ft), clamps and centering rings set ($219 value) included. Technical support and one year warranty, covered by Edwards.
Overview
The EM range of oil-sealed rotary pumps – renowned for its high ultimate vacuum, rapid pumping speed, quiet operation and ability to handle vapour – has become the industry standard laboratory and light industrialapplications. The E2M28 pump is a two-stage, direct drive, sliding vane pump. The pump is oil sealed and designed for reliable, long-term operation in both laboratory and industrial environments. The pump is a freestanding unit with the drive provided through a flexible coupling by either a single-phase or three-phase (four-pole) motor.
Supplied with: Ultragrade 19 oil, NW25 O-ring and centering ring, lifting plate. Fomblin must be purchased separately for PFPE pumps.

Technology
The motor is totally enclosed and is cooled by the motor-cooling fan which directs air along the motor fins. The motors are fitted with a thermal overload device. When the motor is too hot, the thermal overload device switches off the pump. The thermal overload device has an automatic reset; when the motor cools down, the device resets and the motor will restart.
An oil pressure system lubricates the pump shaft bearing surfaces and rotor sealing faces. The pump has an oil distribution valve which prevents discharge of oil to the pump interior (suckback) after the pump stops. The pumping chambers are air-tight, so this arrangement prevents oil suckback unless the gas ballast valve is open.
You can inspect the level and condition of oil in the oil box reservoir through the oil sight-glass. An oil filler-plug is fitted to the top of the oil box. The pump has two oil drain-plugs to allow either gravity oil drain or pressure oil drain.

Applications
Analytical instruments – LCMS

Automotive

Beam lines and high energy physics

Centrifuges, ultra-high speed

Coating

Cryogenics

Degassing/curing – oil, epoxy resin

Distillation/extraction/filtration

Freeze drying

Furnaces

Gas bottle filling/emptying

Gel drying

Glove boxes, ovens

Laboratory bench top vacuum

Lasers, gas recovery and re-circulation

Leak detectors, Helium

Load locks and transfer chambers

Refrigeration manufacture

Rotary, centrifugal evaporators

Solvent recovery

Surface science instruments

Turbomolecular backing pumps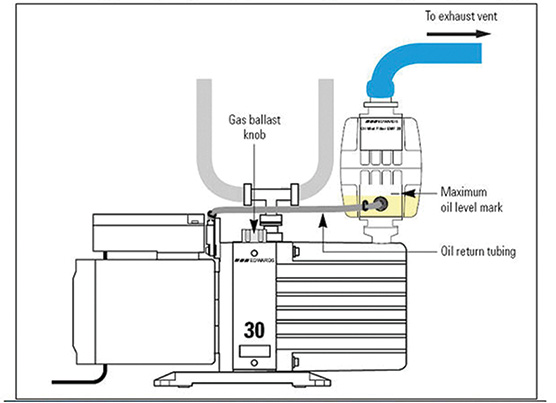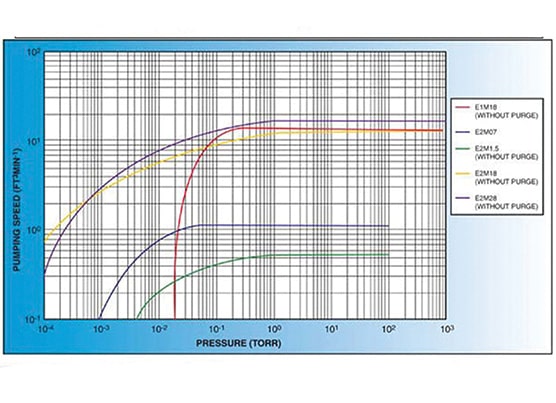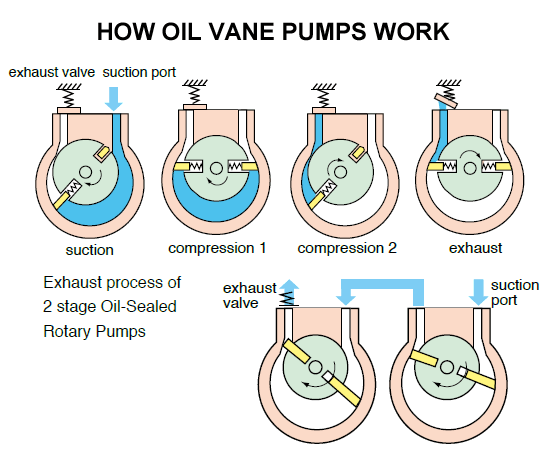 E2M80
Overview
Brand new Edwards E2M80 high capacity vacuum pump with one year manufacturer warranty from Edwards.
Overview
Edwards E2M series two stage oil sealed rotary vane vacuum pumps are renowned for their high ultimate vacuum, rapid pumping speeds, quiet operation and ability to handle water vapour. These direct drive rotary vane pumps are inherently compact and vibration free, and with their finger-proof fan and coupling housings they offer excellent operator protection.
A comprehensive range of accessories is available to allow use on a wide variety of vacuum applications.
Supplied with Ultragrade 70 Oil. Fomblin must be purchased separately for PFPE prepared pumps E2MFX.

Technology
Reliable system protection devices: Every pump has protection devices to prevent oil and air suck-back into the vacuum system if the pump stops while under vacuum. A variety of protection devices are used, depending on the pump size and cost, but emphasis is always placed on reliability and simplicity. When you use gas ballast on some of the pumps, you must use a solenoid operated gas ballast control valve to prevent air suck-back.
Positive Pressure Oil Lubrication: The EM pumps incorporate a well proven positive pressure oil lubrication system which as been developed by Edwards to ensure correct lubrication in all duty modes and particularly to prevent oil starvation with high gas loads.
An integral oil pump ensures that a more than adequate oil flow is pumped throughout the stator/rotor assembly at all times.
This oil lubrication system means that the level of oil in the reservoir is less critical than with other pump designs. All pumps can operate with oil levels as low as 50-70 of the maximum. A full length, easily visible oil level sight glass allows you to conveniently monitor the oil level.
Gas Ballast Facility: The EM pumps have a gas ballast valve. The valve is used to introduce a suitable gas into the stator during the compression stage: this prevents condensation of vapors inside the pump, dilutes and ejects corrosive gases and purges the oil of gases and vapors. Therefore, the use of gas ballast reduces oil degradation and pump corrosion.
Low Noise Levels: The EM pumps maintain Edwardss reputation for quiet operation pumps with a typical noise level of 70 dB(A).
Pumping Systems: The EM pumps, with suitable accessories, can partner a variety of other types of pump in vacuum systems for industry and for research. A special feature of the E2M80 is the central vacuum inlet which enables you to fit a mechanical booster pump with a minimum overhang, to create compact combination pumping systems.
Easy Maintenance: The advanced lubrication system allows the EM pumps to work with wide oil level tolerances, which reduce the need to top-up the oil.
All EM pumps are constructed with internal dowels, which reduce the need for skilled setting of tolerances, when the pump is dismantled. The pumps are designed so that all key components are easily accessible. The exhaust valve seals and oil distributor seals are exposed after the top cover is removed. The shaft seal can be replaced quickly without stripping down the pump.

Applications
Vacuum metallurgy processes

Thin film coating technologies

Pharmaceutical freeze drying

Refrigeration and air conditioning system evacuation, drying, and backfilling

Transformer and cable drying and impregnation, insulating oil treatment plant

Lamp manufacture

Cryogenic vessel evacuation

Vacuum drying and distillation in chemical industries

Semiconductor device manufacture

Backing pump for high vacuum applications
E2M28
| | |
| --- | --- |
|  Model |  E2M28 (replacing the old E2M30, |
|  Vacuum pump type |  Dual stage rotary vane |
|  Power |  110V 50/60Hz 1-PH 8.2A or 220V 50/60Hz 1-PH 4.1A (switchable) |
|  Power connection |  US standard 3-prong plug (NEMA 5-15P) |
|  Motor power at 50Hz |  750 watts |
|  Motor power at 60Hz |  900 watts |
|  Peak pumping speed |  21 CFM at 60Hz |
|  Ultimate vacuum without gas ballast |  0.75 micron/millitorr |
|  Ultimate vacuum with gas ballast |  11 micron/millitorr |
|  Unit dimensions (WxDxH) |  23 x 6.75 x 11″ |
|  Shipping dimensions (WxDxH) |  31 x 11.5 x 19″ |
|  Max water vapor inlet pressure |  22.5 torr (30 mbar) |
|  Max allowed pressure at outlet |  0.5 bar gauge/7 psig |
|  Max water vapor capacity |  700 grams/hour |
|  Operating temperature range |  54°F to 104°F (12°C to 40°C) |
|  Oil capacity |  Minimum 1.4 quart (1.3 L), maximum 1.6 quart (1.5 L) |
|  Oil type |  Ultragrade 19 |
|  Nominal rotation speed |  1400/1720 rpm |
|  Noise level |  57 dB(A) |
|  Inlet connection |  NW25/KF25 |
|  Outlet connection |  Nozzle 15mm external removable from 3/4 in BSP tapped hole |
|  Unit weight |  100 Lbs |
|  Shipping weight |  120 Lbs |
|  Certification |  CE, UL |
E2M80
E2M28
 Part description
 Quantity

 Edwards E2M28 21 CFM dual stage vacuum pump
1 pc
 KF25 stainless steel vacuum bellow (3 ft)
1 pc
 KF25 wing nut flange quick clamp
 2 pcs
 KF25 flange centering ring
 2 pcs
Packing Process Sheet

(list of materials in packaging on receipt paper)

1 pc
 110V stardard 3-prong US power cord
1 pc
 Edwards ultra grade 19 vacuum pump oil
 2 pcs
 Users manual in a CD
1 pc
Fitting Pack (Edward PN: A37301032)

Centering ring (KF25) qty 1, Female connection qty 4x 2x red, 2x blue): 5x 1.5mm (red) 1.5 x 2.5mm (blue) [Description: Shrouded receptacle red sleeve .25 inches in length to suit cable from .5 to 1.5 mm (Blue). Shrouded receptacle blue sleeve .25 inches in length to suit cable from 1.5 x 2.5mm], Ring terminal for M4 screw qty 2 (1x red and 1x blue), and nitrile o-ring qty 1(28mmIDx 5mm CS)

1 pc
E2M80
 Part description
 Quantity

Part image
 Edwards E2M80 57 CFM Dual-stage High Capacity Vacuum Pump
1 pc
Packing Process Sheet

(list of materials in packaging on receipt paper)

1 pc
4L Bottle of Vacuum Pump Oil
2 pc
Tube Pack

(Consists of inlet pipe adaptor NW25 TO 28MM OD tube X 76MM qty 1, hex screws M8 x 20 mm qty 2, M8 washer qty 2, KF-25 centering ring, coupling flange qty 1, and o-ring 28 mm ID x 5 mm CS qty 1)

1 pc
KF40 Inlet Pack
1 pc
Simotics Manual
 1 pc
 Users manual in a CD
1 pc